2.1.5

Retaining and developing employees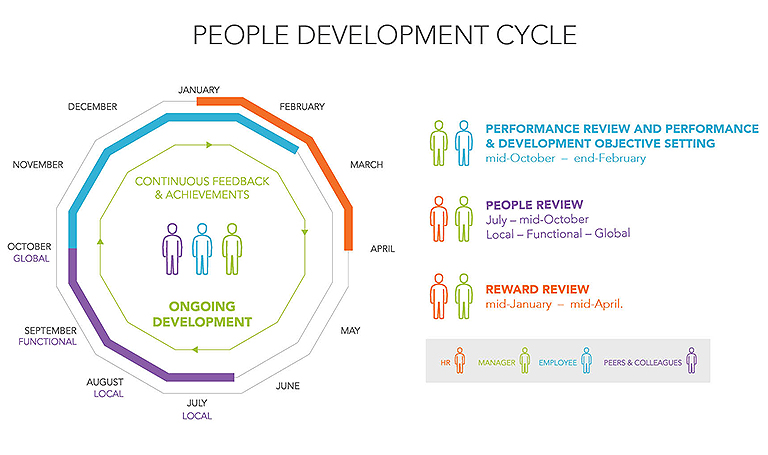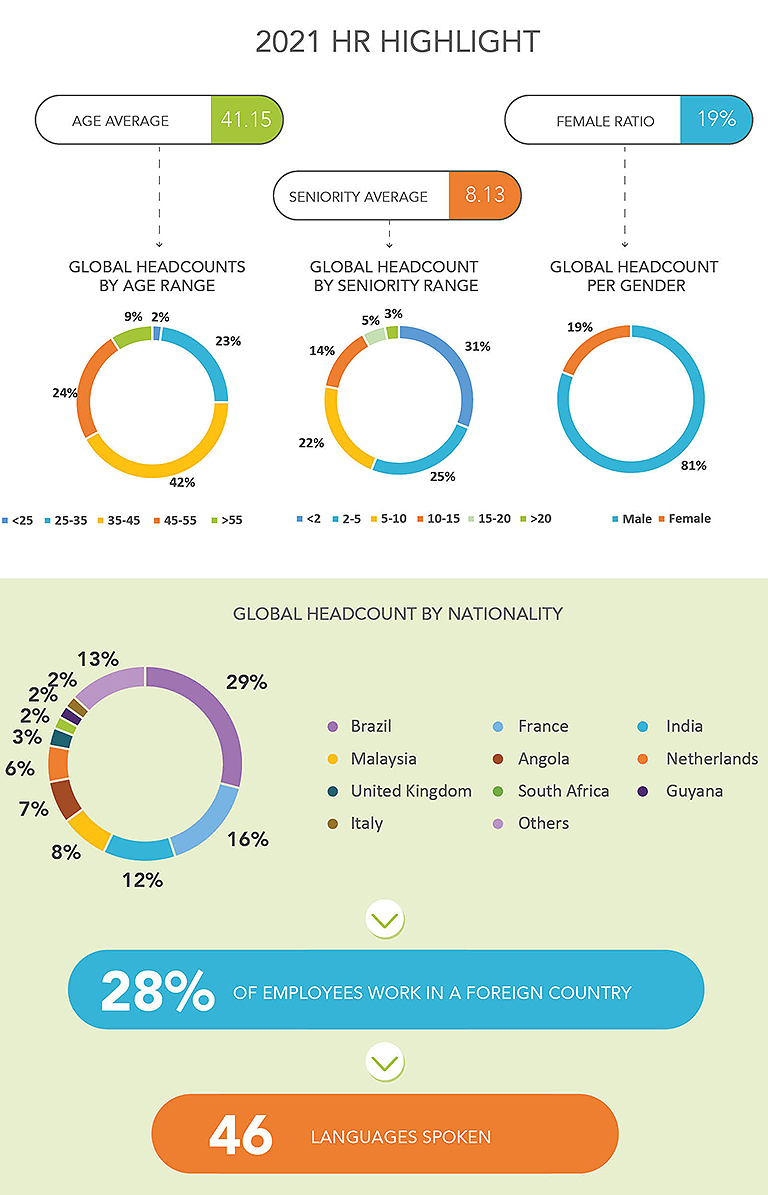 Management approach
In 2021, SBM Offshore's focus continued to be on retaining and developing staff, building and training current and future leaders and protecting employee health and well-being. SBM Offshore runs an HR cycle that contributes to the retention and development of employees. This process is managed under the Group HR function, which is part of the Executive Committee and the CEO-portfolio.
With the ongoing COVID-19 pandemic, and the consequent changes in working practices, SBM Offshore put increased effort into caring for employees, to minimize the effects of fatigue and stress on employees' physical and mental health. Recruiting, training and developing both our leaders and employees meant a switch to digital methods.
In addition, a particular focus was put on increasing employee headcount, in line with business needs, and increasing the flexible component of the workforce, to ensure the business can respond, in an agile way, to current and future demands. This means ensuring an efficient pipeline of new talent through strategic internal and external recruitment activities.
2021 performance
With the COVID-19 pandemic, SBM Offshore has made great efforts to ensure that its workforce is protected, balancing the needs to execute its projects and commitments against the impact on the workforce of working in the changed COVID-19 environment. For example, SBM Offshore recruited a further 132 people to ease the pressure on existing employees operating under extended offshore rotations and quarantine regimes.
Special care was paid to the mental health of employees working at home, with several online initiatives launched to help employees cope with home-working and social isolation. In addition, extra support was given to employees working away from home for extended periods, with measures put in place to allow them to work from their home countries where possible.
The pandemic also affected how SBM Offshore trains employees, with training now increasingly digitalized, using virtual reality and simulation to minimize interpersonal contact.
SBM Offshore continued to develop its leaders, with the new RISE Leadership Program launched, embodying all that is expected of a leader at SBM Offshore, and identified the technical expert community, to create a career reward and recognition path for senior engineers within SBM Offshore.
SBM Offshore was able to recruit new staff, particularly in China, India and Guyana, successfully onboarding them at events in several locations.
Key Highlights
Workforce increased by 16% to 6,426.
Diversity and Inclusion network created with ambassadors appointed in 12 countries.
4,000 voluntary digitalized training courses undertaken by employees.
2,179 employees assessed on their leadership or expert potential.
Future leadership campaign: 38 Hogan assessments (development centers) and 39 Korn Ferry assessments conducted.
Other Highlights
72,345 online applications for jobs reviewed: 4,673 retained for the recruitment process.
Proportion of flexible workers in the workforce increased from 20% to 26% in 2021.
42 e-Learning titles developed and made available on

FPSO

Units.
7 Virtual Reality training modules launched.
3 Process Simulator Training Centers put in place.
'Pulse' employee workplace survey conducted and benchmarked.
13 action plans developed to respond to employee workplace survey findings.
New Learning Management System module of the HRIS (

LUCY

) created.
RISE Leadership Program launched.
Expert Program: Identified 337 Experts, Senior Experts and Master Experts in 31 Expertise Families.
FUTURE
In 2022, SBM Offshore will continue to digitalize HR data, adding further functionality to its LUCY reporting tool to allow automatic and tailored career paths to be proposed to employees.
It will continue to roll out the OSCAR digital 'Offshore Pass' for FPSOs and the 'Crew Self-Service' module alongside other digital tools.
SBM Offshore will finalize its Smart Ways of Working initiative to identify an optimized hybrid model for future working, balancing working from home and working in the office, based on better performance with increased efficiency, while safeguarding employee safety, well-being, and Company core values.
SBM Offshore will continue to give special attention to the 'employee experience', in particular taking care of those employees who have been away from home for longer than usual because of the pandemic. Such an emphasis is key to employee retention. Recruitment will remain a significant challenge as the pandemic makes it more difficult to integrate new team members in the usual way. SBM Offshore will therefore improve onboarding, rolling out best practices to ensure that all new employees experience the same high-standard onboarding wherever they are recruited in the world, online or in person.
In 2022, SBM Offshore will continue to deepen its 'employee experience' knowledge to further improve all aspects of the organizational culture and nurture a strong sense of belonging.
On Training, SBM Offshore will further improve the content and catalogue of the Learning Management System, a training tool which enables SBM Offshore to become a learning organization where each SBM Offshore learner is an entrepreneur in their career development. In addition, SBM Offshore will make unconscious bias awareness sessions available to the Company at large and will also set ambitious diversity and inclusion targets.