1.1.1

Message from the CEO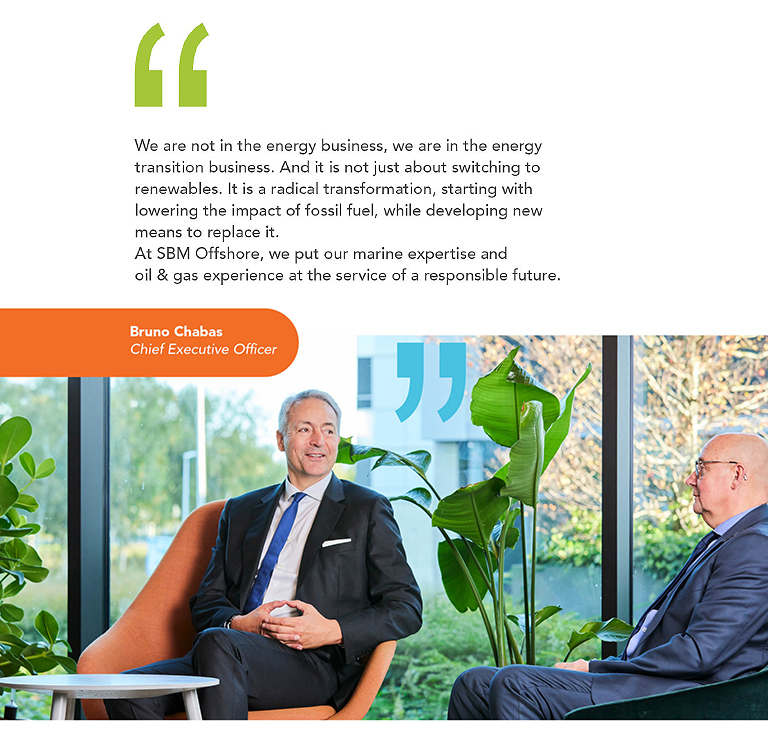 2021 has been a landmark year for SBM Offshore. We have performed well in progressing our project portfolio, increasing our order book, advancing on our ambitions, and managing significant growth. All of this while taking on the challenges that came with the COVID-19 pandemic.
What we have achieved over the last year is down to the dedication and commitment of SBMers to getting the job done. It has been an intense year, and many of our employees have withstood immense pressure and stress in such difficult circumstances. We have done and will continue to do all we can to support and care for our teams across the globe. They can be rightly proud of their achievements this year.
Overall, our project portfolio is going well: we finalized the construction of FPSO Liza Unity in Singapore at the end of the summer and are now at the commissioning stage, in line with the pre- COVID-19 schedule commitment. On FPSO Sepetiba, we had some significant challenges during construction, but the project is adapting well to these new conditions. We won two new awards in Brazil: the FPSOs Almirante Tamandaré and Alexandre de Gusmão. The construction of these and the FPSO Prosperity are on track and the Fast4Ward® hull allocated to the Yellow Tail project has been successfully delivered, despite COVID-19 and the consequent supply-chain challenges.
By adding the production capacity of the FPSOs under construction to those we already operate, we expect to produce above 2% of the world's oil with a significantly lower environmental footprint compared to the wider industry. This is testament to the technology developed through our Fast4Ward® program and the imagination of the people who embarked on this journey in 2014. Reducing our environmental impact is also the premise of our emissionZERO® program.
The ongoing digitalization of our operating experience is also sustaining our performance, enabling us to continually learn and refine the operations and environmental footprint of our assets around the world. This gives us a competitive edge and helps us bring new solutions and new ways of working to our clients, both in fossil and renewable energies.
Financially, we delivered results in line with expectations set during the year. The new awards saw our backlog of contracted orders increase to a record year-end level of US$29.5 billion. These contracts, supporting fields with very low break evens and lower than average emissions, provide a cashflow foundation for the next three decades.
On the funding side, we managed to secure US$4.8 billion of debt, all related to facilitating the funding of growth through our FPSO construction projects in hand. This demonstrates the confidence of our financing stakeholders in SBM Offshore's current and future strength. This year, we also increased our dividend by 10% to US$165 million and in addition we completed a US$180 million share repurchase: this aggregate US$345 million marks a record annual return to shareholders and brings the total we returned over the past six years to over US$1.2 billion. This further illustrates the robustness of the Company, the quality of our execution and the appropriateness of our strategic positioning.
The solid management of our traditional portfolio is what enables SBM Offshore to invest in tomorrow's technologies: our performance today underpins our future success. We are not in the energy business; we are in the energy transition business. We are firmly focused on radically transforming our business to accompany the energy industry as it evolves away from fossil fuels towards a renewable future.
Our strategy is two-fold: firstly, to reduce emissions, and secondly, to develop solutions for renewable energy production. It's not just about making clean energy, it's about making all energies safer, cleaner, and accessible.
On the first goal, enhanced by our emissionZERO® program, we are steadily reducing our environmental footprint. FPSOs under construction are already set to achieve lower levels of CO2 per barrel of oil produced, and we continue to invest in reducing this footprint even further in the future. At the same time, we are working to bring existing assets up to a better standard. In this way we are reducing the environmental impact of hydrocarbons through the inevitable transition period.
On the second goal, we have made significant progress this year on our floating offshore wind offer. We are building the first three TLP (Tension-Leg Platform) facilities for the Provence Grand Large project, on behalf of client EDF Renouvelables. Development now is about honing costs to make floating wind competitive, to enable the transition to be accelerated.
We believe there is a significant market potential for floating offshore wind, which dovetails neatly with our strengths in engineering and technology, project management, operations, and financing. We are confident that our skills and experience in complex engineering in a marine environment will be needed throughout the years of radical transformation in the energy industry. We have anticipated and prepared for the future and we are ready to support the transition, both in terms of improving today's technologies and in developing tomorrow's.
In the coming ten years, we expect to see the beginning of a commercially viable market for floating offshore wind and a shift in our activities from FPSOs towards this new market. By the mid-2030s, we can even envisage a tipping point, where more new activity will come from floating offshore wind than our traditional portfolio.
As a company, we have embraced the energy transition and have plotted our path into the future. We are well-positioned; we are challenging ourselves to become better every day and we are improving all the time. We are firmly establishing the long-term future of SBM Offshore by being profitable and investing at the right time in the technologies of the future that complement our skills and expertise.
I am confident in our ability to meet the energy challenge and to be at the forefront of the transformation!